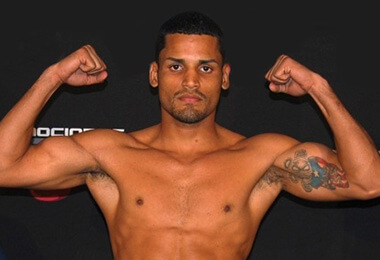 Samuel Figueroa
"El Macho"
---
118 lbs (53.5 kg)
Southpaw
29
Anasco, Puerto Rico
LAST FIGHT / March 09, 2019
---
LOSS vs  Eimantas Stanionis
---
Location / Dignity Health Sports Park , Carson
---
Samuel Figueroa was born in Anasco, Puerto Rico and from a very young age he was forged as an amateur fighter which he ended up having 200 fights. He fought in the Olympics, Pan American and the world championships. He now is currently an undefeated Professional Fighter with a very promising future.
| Result | Opponent | Record | Type | Date | Location |
| --- | --- | --- | --- | --- | --- |
| L | Eimantas Stanionis | 7-0-0 | UD | 2019-03-09 | Dignity Health Sports Park , Carson |
| W | Ismat Eynullayev | 8-1-0 | UD | 2017-03-24 | Orlando Live Event Center, Orlando |
| L | Miguel Cruz | 12-0-0 | SD | 2016-05-08 | Lakelan Event Centers, Lakeland, Florida |
| W | Javontae Starks | 13-0-0 | UD | 2015-10-30 | The Venue at UCF, Orlando, Florida, USA |
| W | Fernando Paliza | 4-0-0 | UD | 2015-09-18 | Full Sail University, Winter Park, Florida, USA |
| W | Jose M Valderrama | 4-9-0 | UD | 2015-05-29 | Stadium Holiday Inn, Philadelphia, Pennsylvania, USA |
| W | James Robinson | 3-2-2 | UD | 2015-02-20 | CONSOL Energy Center, Pittsburgh, Pennsylvania, USA |
| W | Malcolm Terry | 6-4-0 | TKO | 2014-11-21 | Hard Rock Hotel & Casino, Tulsa, Oklahoma, USA |
| W | Omar Serrano | 1-7-0 | TKO | 2012-12-22 | Coliseo Roger L. Mendoza, Caguas, Puerto Rico |
| W | William Lorenzo | 2-11-0 | UD | 2012-09-01 | Coliseo Roger L. Mendoza, Caguas, Puerto Rico |
| W | Orlando Falcon | 2-2-0 | TKO | 2012-06-30 | Coliseo Roger L. Mendoza, Caguas, Puerto Rico |
| W | Ibrihim Shabazz | 0-0-1 | SD | 2011-12-03 | Madison Square Garden, New York, New York, USA |
| W | Jonathan Garcia | 1-0-0 | TKO | 2011-10-14 | Coliseo Rafael G Amalbert, Juncos, Puerto Rico |
W – Win
L – Loss
D – Draw
N – No Contest
UD – Unanimous Decision
MD – Majority Decision
TKO – Technical Knockout
KO – Knockout
NC – No Content
---